Review: Free Solo
Review: Free Solo
I am drawn to stories about extreme endurance and dedication to excellence, wherever that may occur. Whether it's watching the riders on the Tour de France every year or triathletes competing in the Iron Man, I find myself puzzling over the mindsets these athletes have to reach their goals. I also love watching excellence at work and relish perfection in process. For an example, watch any of the "Jiro Dreams of Sushi' to see it play out in food. Now, take a movie that combines extreme endurance with perfection in process and you get "Free Solo".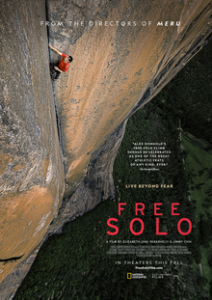 "Free Solo" is about Alex Honnold's epic climb on El Capitan that he did just under four hours and completely rope free. If you're not familiar with climbing you should realize that this is mind blowingly dangerous. There is no room for error. If you fall, you are dead. The movie follows Honnold's attempt at this feat and does a great job conveying the difficulties of the climb. However, this is just not a climbing movie. The film does a great job digging into who Alex Honnold is and exploring the type of person who would even attempt this feat.
Alex Honnold is a fascinating character. He lives the "dirtbag" lifestyle, living out of a van and dedicating his entire life to climbing. He's a loner and introvert, and struggles with relationships and people. He finds himself having to evolve as a girl comes into his life and he must work with a camera crew while keeping focus on what is to be a true life or death situation. It's fun watching him grow as the film progresses, but you'll also feel for him as he faces injuries and setbacks that sidetrack him, both physically and mentally.
The documentary itself is co-directed by Jimmy Chin, who I've already sung praises about on this blog when I named him one of my favorite photographers in 2017 (follow him on Instragram if you're on that platform). The vistas are stunning, the story laid out well, and the feat itself well explained. When Honnold finally gets to a part on the wall called the "Boulder Problem", you'll fully understand the difficulty in the move and be on the edge of your seat as he performs it.
I'd definitely recommend seeing this film. As of this posting, it is still in theaters at smaller venues across the country.