Three Great Hikes In Cincinnati
Three Great Hikes In Cincinnati
Now that I work back in Cincinnati again, I have access to decent parks and good walking routes. This isn't to throw shade on Northern Kentucky, but the planners here haven't seen fit to set aside large pieces of public space as the region develops, especially in the southern part of the area. Cincinnati, as part of what makes it attractive, has some great walking areas. It will in the future have to find ways to make them accessible for all as there are parts of the city that still aren't safe, but it doesn't take long to drive through it to see that changing. Anyone who's been to Woodburn recently can attest to that statement.
For this project, I set a couple of days aside and used Map My Run to trace my walking path. The key to this adventure was to find a route that was varied in elevation change and doable within a lunch break. Here are my first three offerings.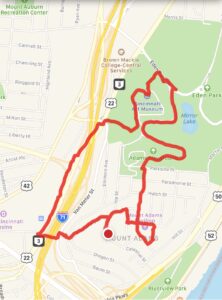 Option 1 is a long haul that starts in Mount Adams and gets through Eden park as well. A real quad burner but an awesome walk. Highlights include walking across the fenced in pedestrian bridge over I-71, up a hidden set of steps along the hill, and a tour through Mount Adams itself.
Option 2 is a complete tour of the best parts of Eden Park itself. Here you'll see some parts of the park you may not have seen before. If I were to expand this, I'd include a side trip to Twin Lakes along Lake Drive in the northeast corner of the map.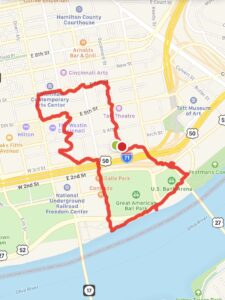 Option 3 visits downtown and parks along the river. I really liked this walk, but finding parking is a problem during the day. Your best bet to make this happen is to find a meter, as most of the pay lots are full due to the work week.
Hopefully I'll have time to round out a few more as I venture through Cincinnati.